It has been a while since I gave you an update about the new Dashboard for TYPO3, but I can guarantee you: we have been busy, and we have an update about the Dashboard for TYPO3!
Current situation
After testing the dashboard as a separate (3rd party) extension for a while, we decided in December that it became time to work on the patch for core to implement the dashboard as a new core extension. The dashboard initiative worked hard to get the patch done. Some small changes have been made and the code was cleaned up, so it was suitable for core. At this moment, the patch is in latest state of review and is about to get merged. A moment we've been waiting for a long time.
This first patch contains the Dashboard module in the backend, the API to create your own widgets and some simple widgets. As this is the minimal viable product we defined, this should at least make it to the LTS release. With this version, everyone should be able to create his own widgets and backend users can create their own dashboards and add widgets to it.
Are we ready yet?
That is an easy one: no, we are not! Before the feature freeze for TYPO3 CMS v10 starts, we will work on several small features. Those features are mainly new widget types and new widgets. We would like to make it as easy as possible for developers to add their widgets. A graph widget type is already finished and will be pushed as soon as the main dashboard patch is merged. We will also try to add some widget with information from core extension. As we can't make any promise which widgets will make it on time, I will not go in detail about this.
When the feature freeze is active, we will focus on helping extension developers to create their own widgets. We will do that by writing proper documentation, but also by creating examples. For my own extensions like the PageSpeed Insights extension and the Yoast SEO for TYPO3 extension, I will create widgets. Besides that, I will visit TYPO3 camps and will propose sessions how to write your own widgets.
And of course we will try to fix bugs as soon as possible!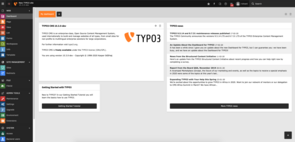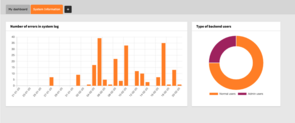 One more thing...
People that might have attended a session of mine about this topic, or have read my previous update, might know that the former (3rd party) extension was available for TYPO3 CMS v9 and v10. During the development we decided to only support v10 from now on. By focusing on v10, we can use great new features like dependency injection, new AJAX APIs etc. Besides the technical benefits for us as developers, the dashboard will also be a unique selling point for the v10 update and hopefully it will make it easier for you to sell the update to your clients and getting all the other technical, but harder to sell, benefits "for free".
Any question? Contact us!
If you have any question regarding the dashboard, don't hesitate to ask on TYPO3 Slack channel #cig-dashboard. We as the dashboard initiative will try to answer you as soon as possible.
Thank you!
As a last thing, I would like to thank MaxServ. They gave and give me and some colleagues the space to make this cool new feature for TYPO3. Although a lot of personal time has been spent, without the support of MaxServ, we wouldn't be able to deliver this feature.